Thursday, 02/11/2023, 14:58 GMT+7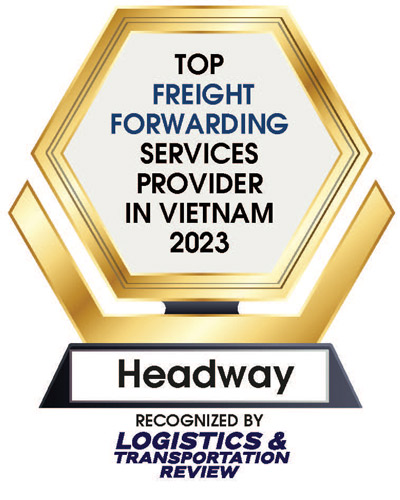 (Headway Certificate - Top 5 Freight Forwarding Services Providers In Vietnam 2023)
Businesses constantly look for operational excellence in their supply chain management within the rapidly evolving logistics realm. Addressing this growing complexity requires a trusted partner who seamlessly and cost-efficiently navigates the diverse cargo supply chains to meet and exceed consumer expectations.
Enter Headway Joint Stock Company, a reliable Vietnamese logistics partner helping businesses achieve digital transformation in their logistics performance with optimum standard operating procedures (SOPs) and flexible supply chain monitoring solutions.
The firm tailors its services to various industries, spanning automotive, perishable, out-of-gauge (OOG), cross-border, and combined sea and air cargo transportation.
Headway helps customers better comprehend the typical cost, safety, logistics, supply chain, cargo tracking, and carrier preference barriers. This understanding improves decision-making, risk prevention, and overall supply chain and cargo management, showcasing the company's dedication to resilience amid emerging disruptions.
Maintaining a customer-centric approach, Headway continually learns and analyses optimal logistics and supply chain solutions to help resolve risks promptly. It demonstrates high-level expertise and end-to-end logistics management while actively researching innovative problem-solving solutions.
Additionally, Headway's strong financial stability allows customers to access comprehensive budget- related support resources like loans or credits, allowing them to make payments at their convenience.
Businesses can use its website for live shipment tracking to ensure real-time status updates and timely deliveries.
Meanwhile, Headway adopts a dedicated in-house system that seamlessly integrates with existing customer relationship management (CRM) and other deployments to help customers optimize inventory management, enhance order fulfillment, and access robust customer services 24/7.
The success of these capabilities is reflected in Headway's large project management record, with leading carriers relying on its services for over 20 years. It also has global partnerships with many logistics and freight forwarding companies. Leveraging its nine offices across Vietnam, the company plays a pivotal role in distributing high-quality products for businesses worldwide.
"Our competitive advantage comes from agency collaborations with many international shipping lines, which assist us in creating new and diverse shipping flows to and from Vietnam," says Felix Nguyen, Managing Director of Headway Joint Stock Company.
For its global partners, Headway offers legal liability insurance to protect them against service-related damages, securing long-term relationships. The company's expertise spans transportation, warehousing, distribution, customs clearance, compliance, and overall cargo management, providing extensive and customizable claim coverage.
Headway's strong agent networks and carrier relationships can handle any cargo type, from general to specialized, small to big, and standard to urgent shipments. This competency extends from ports in Vietnam like Ho Chi Minh at the Vietnam International Container Terminal (VICT), Qui Nhon, or Chu Lai to locations in China, India, Japan, and Korea.
To stay updated on the latest market trends and best business practices, Headway connects with many industry- leading associations. These include the International Federation of Freight Forwarders Associations (FIATA), World Cargo Alliance (WCA), The Cooperative Logistics Network (COOP), World of Freight (WoF), Vietnam Logistics Alliance (VLA), and Overseas Project Cargo Association (OPCA). It is also a proud member of the independent Project Partners Network.
In 2022, Headway was named the first Vietnam-based perishable and automotive logistics provider alongside CMA CGM Group, a logistics company, and Gold Star Line, a global shipping company. These achievements are a testament to its credibility and expertise in providing a wide array of benefits.
At the heart of Headway's commitment to excellence is its highly experienced team, who continuously train to better work with customers and boost service delivery throughout their shipment journey. The company deploys a proficient IT team and global intelligent integrations, showcasing remarkable professionalism in guiding businesses to avoid supply chain-related risks.
After successfully resolving many pandemic-driven challenges, Headway is moving toward sustainable development through advanced and trending tech applications poised to enhance its existing solutions. It is set to continue offering low-carbon logistics that adhere to the highest industry and risk management guidelines, setting the path for clients to achieve continued success in the evolving logistics landscape.
(Source: Logistics & Transportation Review)