Monday, 28/08/2023, 21:49 GMT+7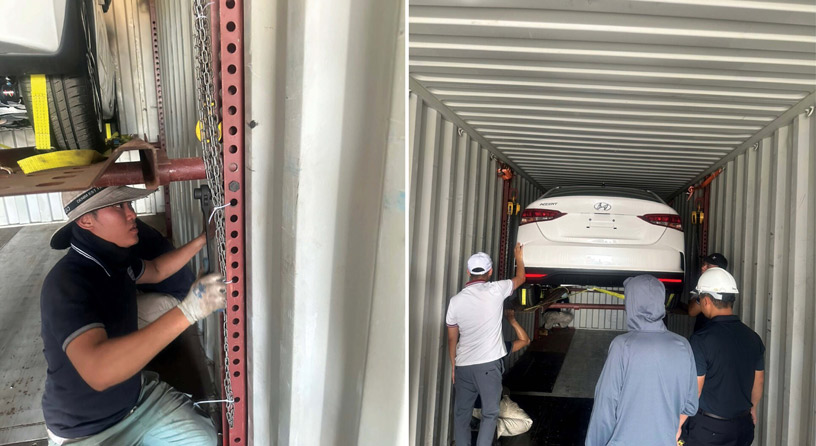 (Headway packs cars in combination with installation of the cracking system in containers)
In July 2023, Headway JSC developed a service of packing cars in containers combined with racking system, promoting the exploitation of domestic routes, successfully transporting 12 complete Hyundai cars from Chua Ve port, Hai Phong to Tan Thuan port, HCMC.
Following the trust and companionship of our customers, Headway provides car transportation services by inland waterways, and at the same time, improves the car packing by cracks installed on the car floor, increasing the area, bearing load, helping to fix the goods and raise and lower cars quickly.
In May 2023: pack 2 cars/container without cracks

In July 2023: pack 3 cars/container with cracks.
Recently, the registration of specialized transport vehicles has become increasingly strict because of changing regulations and policies, increasing transportation demand along with market economic pressures. This situation leads to a shortage and disruption of customers' domestic routes.
The solution for transporting vehicles combining containers and racks not only brings outstanding efficiency and competitive cost, especially with each 40HC container that can hold 3-4 vehicles/cont, but also helps to better protect the vehicles throughout the shipping process.
From the above facts, Headway has researched and deployed the container and rack transportation service for the exploitation of international routes previously into the operation and development of domestic routes, bringing many benefits to customers.
Headway conducts domestic transportation of complete cars combined with containers and racks as follows:
Pick up cars at Chua Ve port, check the exterior and interior for each car.

Pack cars and install the cracks in the container, pack 1 car on the cracks and lashing, pack other 2 cars and lash the floor.

Conduct inland waterway transportation from Hai Phong to Ho Chi Minh City.

Unload cars from containers, deliver cars to the customer's agent at Ho Chi Minh port.
With the demand of transporting cars by containers, Headway provides customers with diverse and flexible car-packing service solutions according to the number of cars, suitable time, competitive cost, to meet all transport requirements of customers.
Simulation clip about Headway packing 4 cars into 1 container, combined with a racking system:
https://www.youtube.com/watch?v=wGGaDz_EyKY