Thursday, 31/08/2023, 09:41 GMT+7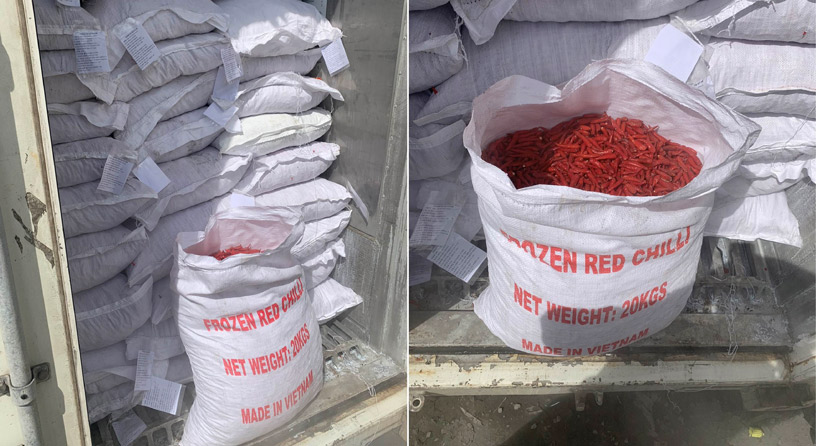 (Headway conducts inspection of chili shipments before exporting to Korea)
In the first 8 months of 2023, Headway JSC has achieved a total output of 320 tons of chili exported to countries such as Korea, USA, Bahrain, Australia, Singapore, etc. In which, the Korean market took the leading position with 102 tons, accounting for 32% compared to the remaining countries.
According to the progression of the first 6 months of the VPA association, the amount of chili exports alone reached 6,958 tons exported to other countries, an increase of 108.4% over the same period last year. This is considered a new door for Vietnam's agricultural products to access large and potential markets.
Recently, Korea is considered one of the "fastidious" markets for importing chili from Vietnam. Some cases are banned from importing chili into Korea due to exceeding the allowable residue of Tricyclazone active ingredient 0.01 mg/kg.
This requires export enterprises as well as transport units to clearly understand and strictly comply with plant quarantine regulations, meeting the requirements of the Korean Ministry of Food Safety and Drugs.
According to the Vietnamese deal in Korea, imported chili will be tested 07 types of plant protection drug active ingredients, including: Diniconazole, Tolfenpyrad, Tricyclazole, Permethrin, Dimethoate, Isoprothiolein, Methominostrobin.
(The chart shows Headway's chilli export output in the first 8 months of 2023)
Headway carries out procedures to export chili to Korea with an average output of 10 containers/month, meeting all customers' professional transportation requirements:
Conduct plant quarantine, check pesticide residues.

Provide C/O, Phyto, related documents.

Carry out customs procedures in two countries of import and export.

Provide professional trucking service.
With the leading reputation in transporting refrigerated goods in the Vietnamese market, Headway constantly improves service processes, quickly updates current import and export policies and regulations, towards the benefits of customers, strongly contributing to the sustainable growth of Vietnam's agricultural products.