Tuesday, 23/05/2023, 14:10 GMT+7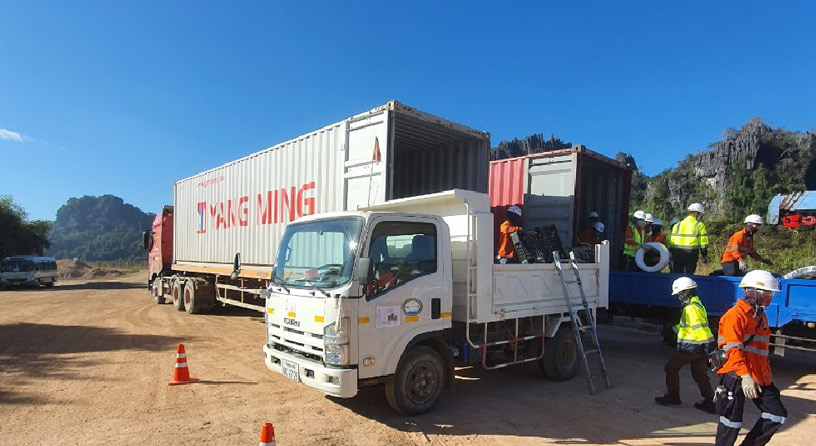 (Photo of goods exchange at the delivery point)

From September 2022 to now, Headway JSC has successfully carried out 36 shipments of machinery, equipment, and construction materials for hydropower projects through Naphao border gate (Laos) - Cha Lo border gate (Vietnam).
After certain successful and development policies in the Cambodian market, Headway JSC has successfully completed the transport supply chain of more than 6000 teus - 3000 containers in multimodal transport and transit in Vietnam through Le Thanh border gate and Hoa Lu border gate (data recorded from 2020 to present)
Following the above success, Headway JSC has expanded the market through the East-West economic corridor routes, especially aiming to develop the Lao market for cross-border goods.
At present, the Lao economy mainly depends on export factors from natural resources and minerals such as wood, gold, tin, iron and steel, fertilizer, animal feed, construction works and development of hydropower plants, mainly because Laos has favorable economic conditions located in the basin of the Mekong and other rivers.
Understanding the above conditions, in 2023, Headway will continue to promote the development of operations in the Laos route, especially to meet the transportation demand for machinery, equipment, and construction materials serving the project works.
Some routes operated by Headway to serve the Laos route through the border gate such as:
Cau Treo (VN) – Namphao (Laos)

Chalo (VN) – Naphao (Laos)

Lao Bao (VN) – Den Savanh (Laos)

Bo Y (VN) – Phou Kena (Laos),…
With the leading strength in the exploitation of cross-border transportation services, Headway JSC advocates comprehensive exploitation of international road transport routes, training staff in local knowledge, providing package of transportation services, professional customs clearance services, goods are met according to specifications, load capacity (oversized goods, project goods, specialized goods), ensuring the packing process, protecting the goods safely during transportation.