Wednesday, 26/07/2023, 09:19 GMT+7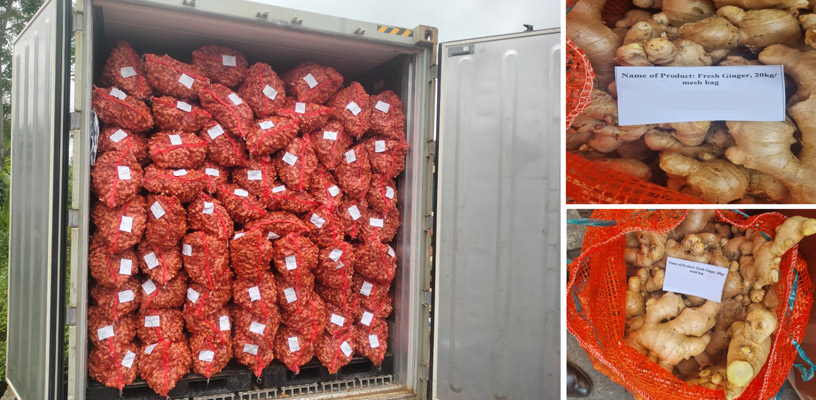 (Headway ginger shipment from Cat Lai port, Vietnam to Chitaggong port, Bangladesh)
In the first half of 2023, Headway JSC reported a total output of 1,722 tons of ginger exported to Bangladesh, U.A.E, India, EU and US. In particular, ginger export to Bangladesh market dominated with an output of 964 tons, accounting for 56% of the remaining countries.
According to the Vietnam Pepper Association (VPA), by the end of June 2023, Vietnam exported 26,029 tons of spices such as ginger, turmeric and other spices, with a total export turnover of USD 31.3 million, up 544% over the same period last year.
Bangladesh is one of the five main export markets of Vietnam's spices, led by China, followed by Bangladesh, Laos, India, U.A.E. With a prime location in South Asia, Bangladesh is adjacent to India and the entrance to the Bay of Bengal, creating favorable conditions to promote vessels and goods trade with this country.
(The chart shows Headway's ginger export output in the first 6 months of 2023)
Headway carries out procedures to export fresh ginger with large output, meeting the demand for transportation to Bangladesh market as follows:
Fresh ginger: HS Code 09101100, 0% export tax

Register plant quarantine, ginger is washed before packing into containers.

Apply for certificate of medical inspection and treatment of qualified goods.

Certificate of origin (C/O), declaration of exported goods meeting the "WO" criteria

Carry out customs procedures, meet the documents required by the importer, facilitate customs clearance of goods at two ports.
With a commitment to providing high quality transportation services, Headway seizes the opportunity to export fresh ginger to potential markets such as South Asia, U.A.E. Thereby, promoting strong economic development, bringing the brand of Vietnamese agricultural products closer to international friends across 5 continents.