Thursday, 10/08/2023, 13:18 GMT+7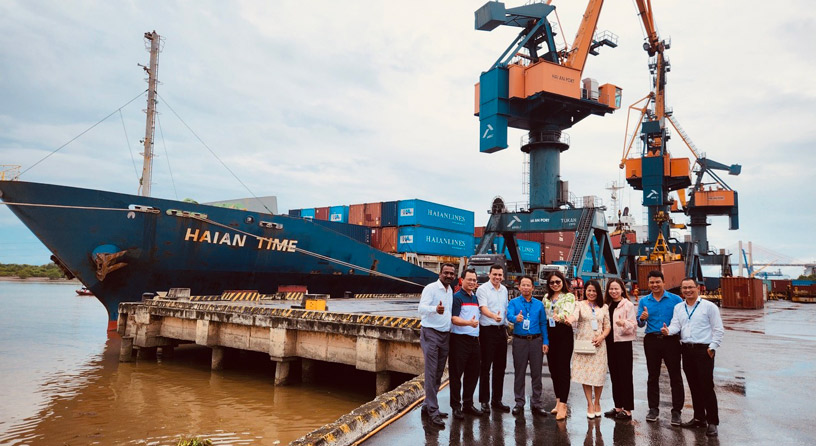 (Representatives of Headway and Zim Lines in the opening event of the new line IVX at Hai Phong port)
Headway JSC is a strategic partner of Zim line in Vietnam market. We are pleased to inform our customers about the new shipping line, directly connecting the Indian seaport with the South - North regions, meeting the efficiency of serving customers with 2 vessels of 1,100 TEUs.
On August 3, 2023, Headway attended the opening event of the first shipping line, directly connecting the two gateway ports of India with two major seaports in Vietnam, Ho Chi Minh City and Hai Phong. Time to transport goods from Kattupali port to Ho Chi Minh City port is within 8 days, the time is significantly shortened im comparison to previous transshipment ports.
India is one of the major import and export markets for goods in Vietnam, including main products such as rice, shrimp, pangasius, garments, and electronics. This event marks an important turning point for Headway in promoting the exploitation of IVX services (India Vietnam Express), developing the growing commercial potential of Vietnam and India.
IVX service route (India - Vietnam):
Hai Phong -> Ho Chi Minh City -> Port Klang -> Kattupali -> Ho Chi Minh City -> Hai Phong
Some advantages of IVX route:
The fastest freight service currently from India to Vietnam and vice versa.

Allocation of fixed seats on board, minimizing the risk of goods delay at transshipment ports.

Competitive shipping costs due to cost reduction at transshipment ports.
With a suitable arrangement schedule, competitive cost and time, Headway is proud to be a reliable partner of major shipping lines around the world, we actively exploit and transport diverse international cargo flows, serving all freight requirements of import-export enterprises in Vietnam.