Tuesday, 31/10/2023, 10:46 GMT+7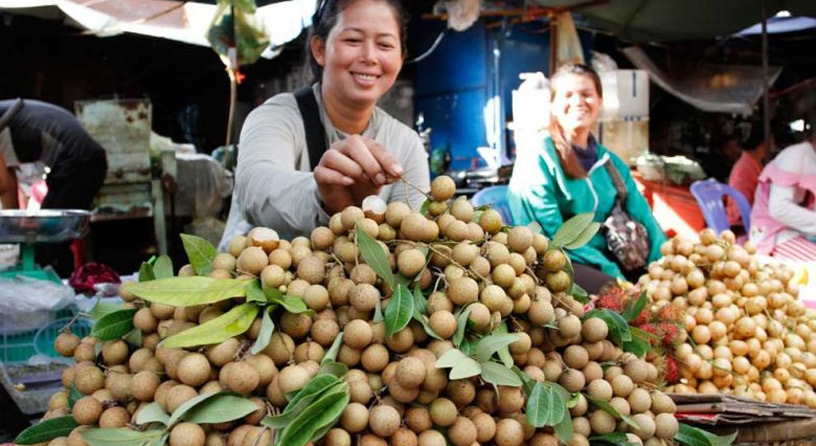 (Cambodian fresh longan is mainly exported to China, Thailand, or consumed locally - Photo: Phnompenh Post)
Headway JSC successfully transported 375 tons of Cambodian fresh longan to China in October 2023, transiting goods at Hoa Lu border gate, Vietnam, marking trade cooperation and promoting agricultural development between countries.
According to the Cambodian Ministry of Agriculture, Forestry and Fisheries, in the first 8 months of 2023, Cambodian fresh longan exports to China reached 8,118 tons, an increase of more than 3,720% over the same period last year.
In August 2023 alone, fresh longan exports reached 3,250 tons, a strong growth showing that the quality of Cambodian domestic longans is gradually conquering the populous Chinese market.
This development also opens up great opportunities for Vietnam, a country strategically located with a strongly developed road transportation system. Vietnam has become a bridge for convenient customs clearance of goods between Cambodia and China.
Transit routes through Vietnamese territory help customers optimize time and routes compared to direct transportation. Thereby contributing to the country's economic growth, developing logistics services, intermodal and cross-border freight transportation services..
Headway operates the Cambodia - China route through Vietnamese territory:
Cambodia -> Hoa Lu (Vietnam) -> China
Headway owns its own depot in Hoa Lu, providing full refrigerated service, serving all customers' diverse transportation requirements.
Transport of goods in transit between Cambodia and Vietnam

Quick customs clearance procedures

Book sea freight to China

Shipments are stored at appropriate temperatures, continuously monitoring temperature every 4 hours.

Dedicated customer care, updated routes, commitment to safety and quality of goods during transportation.
(Hoa Lu Depot - Headway specializes in serving refrigerated goods for the Cambodia route)
As a leading enterprise in the industry, Headway has affirmed its strength in transporting refrigerated goods and cross-border goods. We continue our previous achievements by successfully exploiting the Cambodia - China cargo route, expanding our network and service routes, and improving our adaptability to serve customers.