Monday, 17/07/2023, 13:31 GMT+7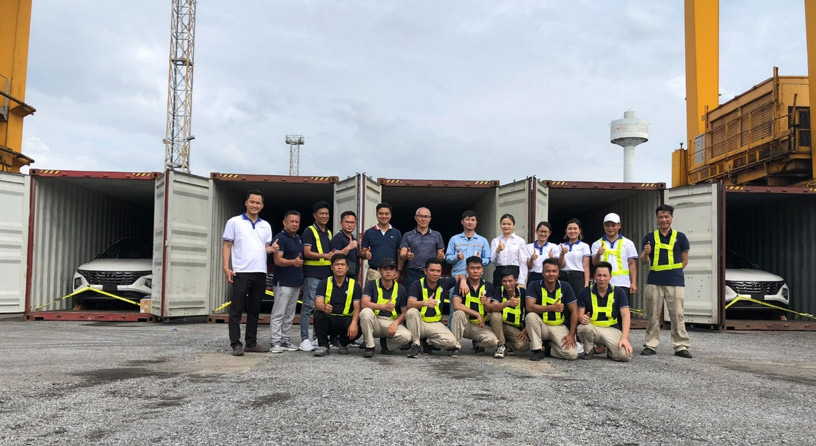 (Headway team and customers after completing packing cars at Hai Phong port)
In the past month, Headway JSC has successfully transported 53 Hyundai cars by inland waterways from Hai Phong port to Ho Chi Minh port, assembled finished products in Vietnam.
Headway with a team of personnel with technical expertise and specialized expertise in automobiles, has handled the entire transportation process for customers from receiving vehicles at Hai Phong port until handing over vehicles at the destinations.
Conducting professional exterior and interior inspection for each vehicle.

Fastening, tying, fixing vehicles to each container.

Transporting by inland waterway on the route Hai Phong - Ho Chi Minh City.

Supervising and pulling vehicles out of containers at the yard.

Handing over vehicles to customers at the destinations.
With its position adjacent to the East Sea, Vietnam has a rich system of canals and rivers passing through the midlands and plains, which is convenient for the exploitation of waterway routes, promoting the development of logistics service.
Headway deploys North - South inland waterway container transport routes, expands the network of goods circulation through Cai Mep, Ho Chi Minh City, Can Tho, Hai Phong and many other areas.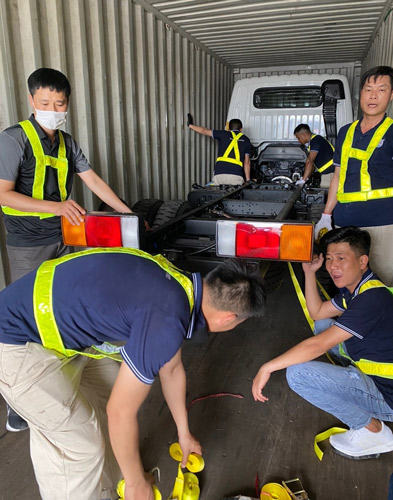 (Headway staff are putting vehicles into container)
Transporting goods by waterway is the optimal solution for items with large loads, oversized goods, helping customers to reduce transportation costs, reduce CO2 emissions into the environment, and solve road traffic congestion in the Mekong Delta region as well as in key economic regions across the country.
Headway sets a comprehensive logistics supply chain, towards the development of sustainable "green logistics", we apply friendly advanced methods, processes and technologies, not only commit to bringing economic efficiency, but also ensure the natural environment protection.