, 01/07/2023, 09:43 GMT+7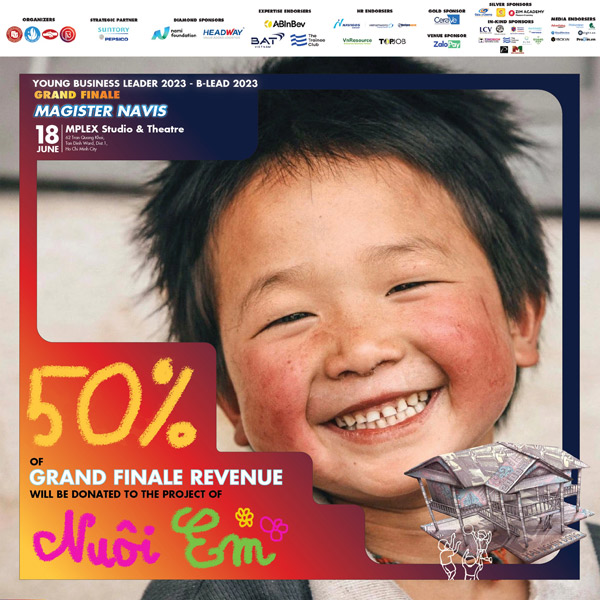 (The "Power 2000" Fund, Supporting Upland Children)
Recently, Headway JSC has been proud to be the companion of the final night of Young Business Leader (B-Lead 2023) Competition, taking place on June 18, 2023 at MPLEX Studio & Theatre, District 1. The contest closed with a great journey full of difficulties and challenges, and the position of the most talented captain honored "Dao Duy Manh".
B-LEAD is a competition on business leadership skills, where knowledge is generated and opportunities are created for young students to improve skills, gain experience, and conquer employers in the business environment.
The competition was organized by Business Club & Foreign Language Club of Foreign Trade University – Campus 2, attracting nearly 1000 applications from more than 30 universities and colleges nationwide. Overcoming the thrilling races, the final top 3, the "young leaders" appeared with excellent presentation and self-efficacy.
Champion: Dao Duy Manh

Runner-up: Phan Cao Nguyen

Third prize: Hoang Ngoc Tram
The competition is not only a practical playground but also aims to bring sustainable value to the community, 50% of the revenue from the sale of tickets for the final night would be donated to the "Power 2000" fund, belonging to the project ecology raising the upland children.
The project implemented since 2009 until now has got great achievements, stemming from the thought that with only VND 2,000 per day, we can do extraordinary things together.
311 schools, boarding areas, happy houses, happy bridges built by 6/2022.

222 projects expected to be called for, built and put into use in 2022.

60,000 students having better study conditions in 2022.
Details of "Power 2000": https://sucmanh2000.com/
At the competition, Headway upheld the humanity conveyed by the program to the student generation, we are extremely honored to be a contributing factor to the success of B-LEAD. With the baggage of an empathetic and loving heart, they will be thoughtful and visionary leaders, bringing many benefits to the country and society.
Some pictures of the final night of B-Lead 2023:
(The prestigious trophy for the best captain of B-LEAD 2023)
(Ms. Quach Thuy An – Headway's Deputy Director of Operation spoke at the final night of the competition.)
(Ms. Quach Thuy An awarded Phan Cao Nguyen - runner-up of B-Lead 2023.)
(Dao Duy Manh – Champion of B-Lead 2023 raised the honorable trophy.)
(B-LEAD team took a souvenir photo at the end of the program.)