Friday, 10/11/2023, 09:23 GMT+7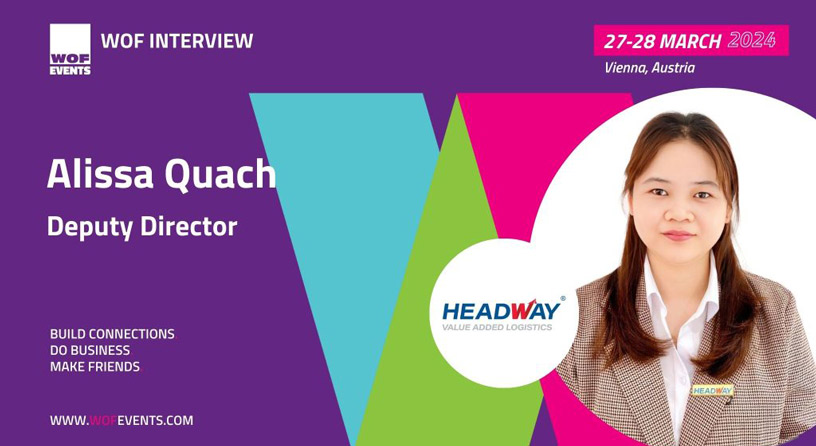 Alissa Quach is a Deputy Director of Headway Joint Stock Company. She has always believed that in order to continuously develop, we require intelligent, imaginative people who can come up with workable answers to challenging problems. She has more than 15 years of expertise in the field and has assisted numerous organizations and coworkers in achieving their goals and taking their careers to the next level. She graduated with a degree in International Business Administration and holds a Master of Science in Transportation and Logistics from Must University with the assistance of the Massachusetts Institute of Technology (MIT) in the USA. She always goes with Headway Joint Company outside of work to fulfill social obligations like charity, content companion programs, and awards for competitions to uncover new talent in the logistics sector.
Alissa, it's been a turbulent period for the logistics industry the past few years. Could you tell us about some of the key factors that have allowed Headway to remain a reliable partner during these trying times?
Certainly, Headway's ability to weather the storm and provide uninterrupted services during the pandemic is attributed to several crucial factors. First and foremost, our experience spanning over two decades has equipped us with a deep understanding of the logistics landscape and the expertise to tackle any challenge that comes our way. We are constantly seeking innovative solutions to address complex problems.
That's impressive. What about your team and their role in this success?
Our team is the backbone of our success. They are industry experts who undergo continuous professional training to stay updated and ensure the highest level of customer service. Their professionalism allows us to advise and monitor shipments to mitigate risks and keep supply chains running smoothly. We've handled diverse projects, from automotive to perishable goods, and provided comprehensive solutions, including cross-border, sea, and air services.
It's clear that your team plays a significant role. What about your commitment to sustainability and technology?
Sustainability is a top priority. We integrate advanced technology into our smart logistics practices, aligning with the latest trends to meet our customers' evolving needs. We have our own intelligent IT team and a robust CRM system, integrated with global intelligent systems. This not only enhances efficiency but also contributes to sustainability efforts.
You mentioned having a global presence. How does Headway's network help in meeting the needs of businesses worldwide?
We operate through nine offices across Vietnam and have a strong global network of partners, allowing us to meet the distribution needs of businesses worldwide. Being part of prestigious logistics associations such as FIATA, WCA, COOP, WOF, VLA, OVERSEAS PROJECT CARGO ASSOCIATION – OPCA, PROJECT PARTNERS NETWORK, etc., and having liability insurance further underscores our reliability as a logistics partner.
It's impressive to see how you've thrived in the face of challenges, especially during the Covid-19 pandemic. What can customers and partners expect from Headway in the future?
Customers and partners can trust that we will continue to develop sustainably. Our commitment to excellence and the recognition we've received, such as being number one in Vietnam for perishable logistics and automotive logistics, demonstrate our dedication. We will continue to provide optimal solutions, cost-efficiency, safety, and punctuality, backed by our strong relationships with carriers and partners.
That's reassuring to hear. What sets Headway apart in providing logistics solutions?
Headway stands out through our robust tracking systems, 24/7 support, extensive experience, financial strength, and, most importantly, our unwavering commitment to our customers' success.
The Headway team has traveled across the oceans from Vietnam to take part in the recent WOF event in Budapest as an exhibitor. Please reveal to us whether your presence brought any fruit to the company. What were the main outcomes for your team you took away from the event?
The WOF&BUD Cargo Forum is truly an event that needs to be organized because it brings together the brightest minds from the international supply chain community. We are honored to have the opportunity to connect and exchange business insights with leaders in the industry. This is a good opportunity for us to connect with manufacturers, retailers, wholesalers, importers, and exporters from vital industries. Thanks to participating in this event, we can grasp more challenges, opportunities, and industry trends, as well as connect with many partners through high-level discussion and opportunities to cooperate in the future.
(Source: WOF Summit)