Wednesday, 01/03/2023, 14:11 GMT+7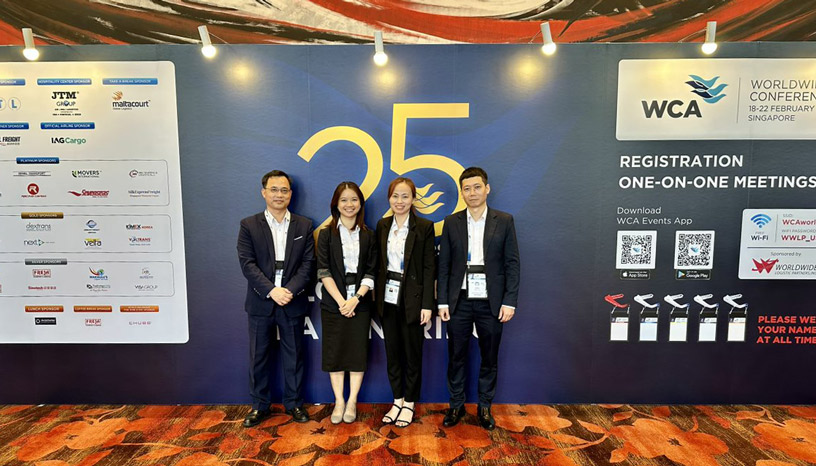 (Headway JSC attended the WCA conference, took photos with the program backdrop, from left to right: Mr Felix – Managing Director, Mrs Rosa – Sales Manager, Da Nang Office, Mrs Tracy – Head of Pricing & Sales Support Department, Mr. Owen – Head of Representative Office in Hanoi)
Headway JSC was honored to participate in the World Cargo Alliance (WCA) conference on the occasion of the 25th anniversary of WCA First and the WCA Worldwide conference, attracting the attendance of nearly 4000 members from more than 170 countries around the world, to be held from February 16-22, 2023 in Singapore.
At the event, Headway JSC had the opportunity to promote its service brand image, introduce professional transportation packages for perishable goods, automotive logistics, and cross-border goods to friends across 5 continents, creating many B2B meetings with international business partners.
Headway promptly grasped globalization trends, brought many opportunities for bilateral cooperation with strategic partners, accessed new service areas, and potential markets that have not thoroughly exploit.
In 2022, the world economy witnessed a serious decline when falling into a multi-crisis spiral, coming from changes in political economy, conflicts and prolonged inflation. It is predicted that in 2023, the economy still has many difficulties and challenges, so logistics enterprises in Vietnam in general as well as Headway in particular need to have many appropriate measures and business strategies to overcome immediate challenges in supply chain management.
Through the exchange and connection with conference participants, enterprises can receive more opportunities from WCA's training programs, thereby expanding the network of logistics activities, contributing to promoting the development and growth of the global economy.
Some photos of Headway JSC attending the WCA conference in Singapore: