Thursday, 01/06/2023, 15:48 GMT+7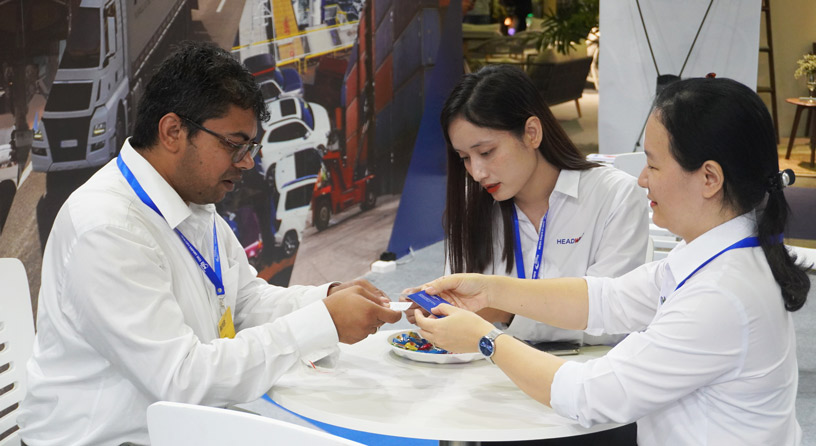 (Headway exchanges information, advises customers on transportation solutions)
Headway JSC has successfully completed its role as a logistics service support company accompanying the Ministry of Industry and Trade and the Trade Promotion Agency at the fair "HCM City Export 2023" from March 25-28, 2023.
Ending the 4-day series at HCM City Export (May 25-28, 2023), Headway JSC appreciates and thanks customers for liking and visiting the Booth#AA06. This is an opportunity for us to approach different customer groups, thereby having appropriate policy changes and development orientations in the near future.
Currently, aiming for "green export" is an inevitable trend in the transportation industry, Headway is proud to be a pioneer in catching up with modern trends, providing customers with optimal logistics solutions through the application of advanced technologies, using natural resources, establishing a sustainable supply chain.
For the first time registering to participate in the fair, Headway wishes to build a brand image, professional transportation services closer to customers, and at the same time affirm Headway's position in the current logistics market.
Located right in the center of the main aisle, Headway's booth stands out with its distinctive design in the dominant blue ground, which is a favorite "coordinate" and attracts a lot of guests to visit and take pictures on the days of the event.
Through this event, along with supportive policies from departments, authorities, import-export enterprises, logistics companies in general, as well as Headway in particular, there are many opportunities to expand the network to connect globally, promote export links, promote trade activities, contribute to growth for the Vietnamese economy to recover after the difficult period of the pandemic.
Some Headway's images at HCM City Export 2023.
(Headway's Banners at the main entrance of the SECC exhibition center, District 7)
(Overview of Headway booth at HCM City Export 2023)
(Exchange work with partners)
(Headway and event guests take photos with hashtag)
(Introduce information, support service consultation for customers at the counter)
(Working and welcoming space at Headway booth)