Monday, 17/04/2023, 23:08 GMT+7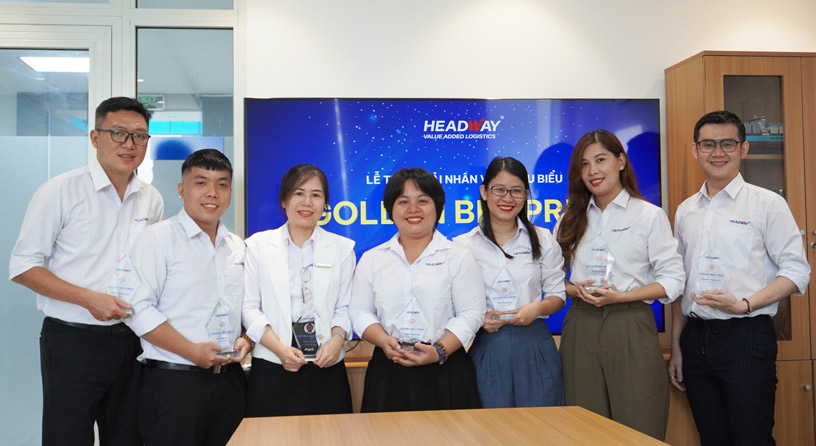 (Golden bee warriors in quarter 1/2023)
In 2023, Headway JSC implements many reward policies to evaluate the labor productivity of all employees nationwide. Among them, the campaign "Golden Bee Prize" is one of the important ones, recognizing and praising typical employees with high achievements each quarter.
The ceremony was held in a warm atmosphere on the morning of April 17, 2023, the representative of the Management, Mr. Felix had warm sharing, declared the purpose, the evaluation criteria in the campaign as well as sent congratulation and praised individuals awarded the high prizes in Quarter 1 in 2023, the reward for each individual was VND 3,000,000 + 1 medal.
Take a look at the excellent "golden bee" members in the first season:
1. Mr Bevis – Customs Service Staff – Da Nang Office

2. Ms Josee – Customer Service Staff – Da Nang Office

3. Ms Agnes – HR Staff – HCMC Office

4. Ms Van –Marketing Staff – HCMC Office

5. Mr Louis – Sales Staff – HCMC Office

6. Ms Mina – Receivable and Tax Consolidation Accountant – HCMC Office

7. Mr Nad – IT Staff – HCMC Office
The "Golden Bee Prize" campaign was not only a measure for the evaluation of labor productivity improvement, but also rewards for recognition of dedication and moral value for each employee. To encourage a competitive environment, to actively emulate, to wish each individual to be a "brick" to contribute to the creation and construction of a solid Headway wall.
Let's take a look at some photos from the "Golden Bee Prize" award ceremony this morning.
(Mr Felix – Representative of the Management made the opening speech of the program)
(Mr Woody – The Chairman of the Board of Directors presented awards to Mr. Louis & Mr. Bevis (Ms Zoe received on behalf of Mr. Bevis))
(Ms Alissa – Deputy Director of Operations presented awards to Mr Nad & Ms Josee (Mr Jack received on behalf of Ms Josee))
(Ms Helen – Chief Accountant presented awards to Ms Agnes & Ms Mina)
(Ms Phuong – Deputy Head of HR Administration Department presented the award to Ms. Van)
(Headway "reporting news" support team)
(Members of the Management, managers and staffs who received the "golden bee" award took a photo at the end of the ceremony)