, 03/06/2023, 09:26 GMT+7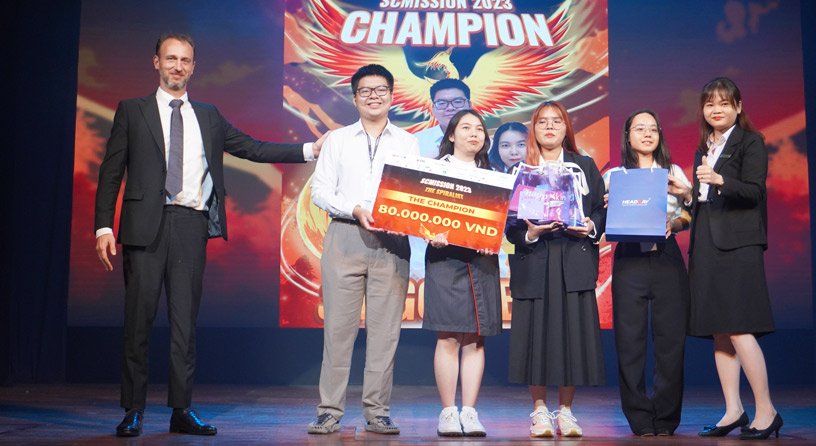 (Ms. Quach Thuy An – Deputy Director of Headway Operations (right cover) is awarding the prize to the overall champion team)
Headway JSC officially participated in the final night of the SCMISSION 2023 contest, which took place on May 31 at Tran Huu Trang theater, District 1. The end of the last race was a well-balanced battle between the warriors "fire phoenix" with the highest honor awarded to Saigonees team.
Coming to the contest, Headway JSC was honored to be a diamond sponsor, accompanying and spreading passion to students in the SCMISSION 2023 contest, organized for the 6th time by the Logistics Club of Branch II - Foreign Trade University in Ho Chi Minh City.
The contest is a place to incubate young talented, unleash their creativity, research possible solutions in stages of the logistics chain, and have the ability to analyze and solve business situations in the Logistics and Supply Chain Management fields.
With this year's theme "circulated supply chain", the Saigoneers team had an excellent performance when they overcame 220 teams nationwide, leaving their mark on each individual during the journey to conquer the Champion position.
At the final night of the contest, the teams had a presentation on the topic in English fluently with confident and persuasive eloquence, they completely mastered the stage like real speakers.
Champion: Saigonneers

Runner-up: Going to Bed Early

Third prize: PVP & Noidea
Accompanying the program from the first days of opening, providing career guidance to students until now, Ms. Quach Thuy An – Deputy Director of Operations of Headway shared: "Your current generation of students is too good and talent, you have youth, confidence and enthusiasm, are the new factors that ignite the fire of passion and lead the way for our logistics to go further on the world map".
Through the contest, especially in the Logistics, Headway upholds the spirit of learning, enthusiasm and passion of youth, has been always accompanying future students. Because, we clearly understand that students are the factors that elevate the value and contribute to the development of the national economy.
(Headway attended Opening Day – SCMission on March 04, 2023)
(Ms. Quach Thuy An and Ms. Duong Thanh Thao – Human Resources specialists exchange career guidance for students)
(Ms. Quach Thuy An speaks at the final of SCMissions on May 31, 2023)
(Top 4 best teams of SCMission 2023)
(The eloquent moment of students)
(Runner-up of the competition – "Going to bed early" Team)
(Take photos with the top excellent contestants at the end of the contest.)