Thursday, 30/03/2023, 17:53 GMT+7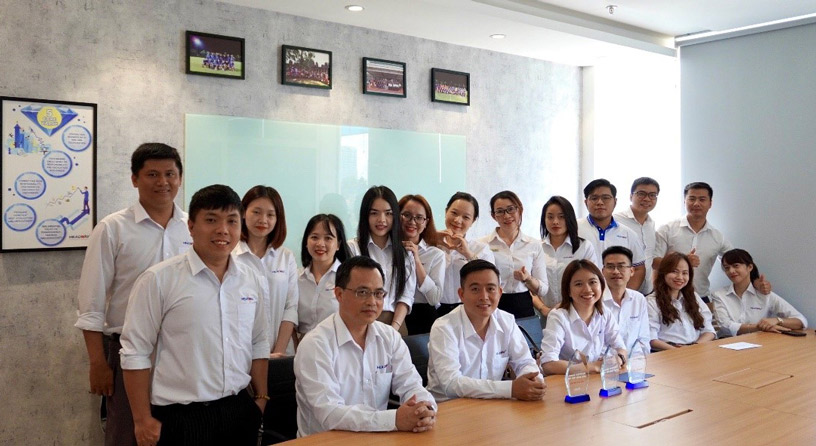 (The award announcement ceremony was held with the participation of members of the Management, excellent individuals, groups, leaders and members of Sales team)
Headway JSC launched the campaign "Sales Campaign Of The Year 2022" from October 10, 2022 to March 10, 2023 to develop new logistics services in Quy Nhon and Chu Lai areas; awarding, honoring and praising the best individuals and groups after the campaign.
After 6 months of implementation, the campaign has ended successfully, Headway recorded impressive numbers for the total export and import volume in the Central region of 179 teus, of which Quy Nhon and Chu Lai are the gateways for activities to develop logistics services and bring a lot of potential for economic development.
During the award announcement meeting held on the morning of March 29, 2023 at the Office of Headway in Ho Chi Minh, Mr. Felix Nguyen - CEO of the company sent his sincere thanks to individuals and groups with great efforts and contribution to the success of the campaign, and at the same time congratulated, praised, awarded medals and awards to individuals and groups who had achieved the best results.
First prize

: Mr Dennis - Sales: 3 maces of PNJ gold + medal

Second prize

: Mrs Linda - Sales: 2 maces of PNJ gold + medal

Third prize

: Mrs Rosa - Sales: 01 mace of PNJ gold + medal

Consolation prize

: Ms Venus (OPS) and Pricing team: VND 2,000,000
The success of this campaign is considered a solid step forward for Headway in expanding its operation scale, developing cooperative relationships with strategic partners, and consolidating its leading position in the logistics market of Viet Nam.
In 2023, Headway sets new strategic directions for each different campaign, as well as always recognizes the dedication and desire of each individual and team working at Headway to constantly strive to achieve higher achievements in the near future.
Some pictures from Headway's campaign award announcement ceremony:
(Mr Felix awards the first prize to Mr Dennis – Sales staff – Da Nang Office)
(Mr Felix awards the second prize– Mrs Rosa receives on behalf of Mrs Linda – Sales staff – Da Nang Office)
(Mr Felix awards the third prize to Mrs Rosa – Vice Manager of Sales – Da Nang Office)
(Mrs Sapphire awards the consolation prize – Mrs Rosa receives on behalf of Ms Venus - OPS)
(Mrs Snowy awards the consolation prize to Pricing team)