Tuesday, 04/04/2023, 11:53 GMT+7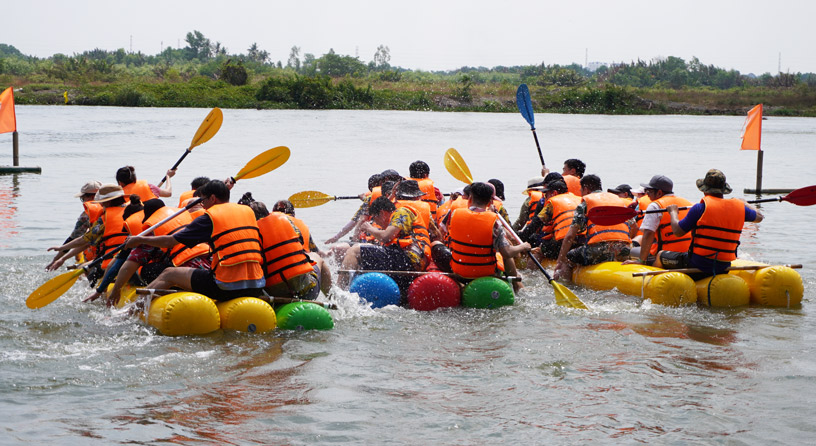 (Headway team members raft across the river in team building activities)
Beating the sweltering heat of a hot summer day, the Executive Board of Headway Trade Union organized a picnic combining "team building" full of excitement for its employees at Tre Viet Village, Dong Nai in the morning of Sunday, April 2, 2023.
This was an opportunity for us to exchange connections, unleash our best through team games and challenges, thereby creating a unified team with a spirit of warriors of enthusiasm, working best and playing hard.
Headway team members had the opportunity to show their dynamism, flexibility, and ingenuity through specially designed games to improve teamwork such as team races, passing balls, pearls in the wells, and making rafts to cross the river
At the end of the last race with the challenge of "creating rafts to cross the river", the teams built their own perfect strategies, balanced members on the raft, divided the main members with skillful steering, the remaining members tried to protect their teammates, cheer, and fan the water so that the raft could move to the right direction in the shortest time.
Through the program, the Executive Board of the Trade Union hopes that Headway family members have had a truly meaningful Sunday, overcome all pressures at work, have physical activity games to improve their health, fully charge "battery" to regenerate more positive energy sources for life.
Let's look back at the team building moments of "burning out" of the Headway team members.
(Headway family took nice pictures to check-in at the beginning)
(Prepare for the challenge of "passing balls")
(Team race - run fast or miss)
(Members quickly "find gems in wells")
(Staff prepare to "make rafts to cross the river")
(Teams race to the finish line)
(Got the flag, let's get to the finish line)